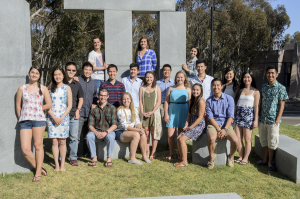 Selecting orientation leaders is one of the most important aspects of orientation
program planning. Orientation Leaders (OLs) play an essential role in setting the tone
for new students, family members and staff. Here's a few things to consider.

Establish an interview process
The key elements involved with selection should include:
1. Setting the dates of orientation for the application
2. Recruitment of applicants
3. Deciding the interview process (group interviews and/or individual interviews or a
combination)
4. Seeking out colleagues to help with the selection process, and more.  
Get help from former orientation leaders and colleagues
Some orientation program coordinators allow former OLs to help with the selection.
Others do not.  I have always utilized former OLs and former orientation interns to
assist.  
I also have maintained good relationships with former OLs (for over 20 years) and
have asked former OLs who lived near campus to assist.  They were thrilled to be
remembered and love still having a hand at helping with orientation.  
I have also utilized my campus colleagues who were former OLs and also those whom
I have worked with over the years who understand what leadership skills I am seeking
in new OLs.  Their input is invaluable.  
Of course, I always provide my criteria to them in advance when asking for their
assistance.  Knowledge is powerful.   I also never forget to thank them for their
assistance and copy their supervisors to let them know how important their
engagement in the process is so appreciated.
Orientation leader online application
I highly recommend an electronic method for applications and signing up for
interview times. If your campus doesn't have a system that does not charge your
department, use the internet to find free sources to submit the applications and have
students sign up for their interview times also electronically.
Be very clear in the application about the minimum requirements for applicants such
as grade point average, number of units completed, and any other special needs that
are necessary for students to apply for this leadership opportunity.  

Meeting the potential orientation leader

It would be a good idea to also decide if various dates and time work best for you, your
co-interviewers and the applicants.  Some folks like a Saturday interview session with
multiple breaks for the interviewers (you will need to budget for refreshments and
lunch and possibly dinner for an all group review at the end of the day.  
Sometimes a weekend all day session works well so students are not in classes and
there are more rooms available on campus for the interviews. Take into consideration
of any of your staff interviewers are required to be paid overtime for working on a
weekend – different from campus to campus.

Understanding your campus requirements
Recruitment suggestions are another entire topic but before you go to print your
applications, be sure to finalize your housing arrangements for orientation leaders if
your orientation agenda goes into the evening and also what meals/perks will be
provided for orientation.  
A fundamental aspect of selection is knowing if you are required to pay orientation
leaders (which in California you are) you have finalized your budget for salaries,
housing (if needed), meals, uniforms (clothing) and giveaways to incoming students.

Detailed interview agenda and more
If you would like me to share some free examples that I've used in the past, please fill
out our form below and will try to reach out as soon as possible. I'm more than happy
to share step by step example of every detailed interview agenda and
questions/activities.. evaluation sheets etc. Make sure to let me know if email or a
phone call works best for you.