OUR STORY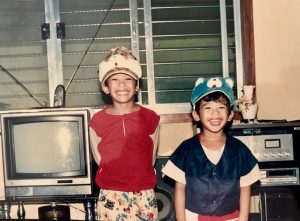 CollegeWear started out as a completely different brand – ScienceAide —
selling custom-made lab coats and Scratch Sheets that our founder,
Jaysond, came up with as a pre-dental student University of California,
San Diego (UCSD). Some classmates heard of Jaysond's experience with
custom garments and asked him for help to make custom group t shirts.
Jaysond had a great time helping and teamed up with his brother, Jeff.
Together, they helped more students create custom printed t shirts and
embroidered polos for campus events.
Each customer in the beginning was a referral from someone who had asked Jaysond for help. Despite of the competition in the
area, customers always sought out the personal touch that the CollegeWear team provides for every order. Since then, we
understand that every custom product represents a community, event or purpose in your college campus and are excited to help
any way we can!

WHAT WE OFFER

Low Minimum
Our minimum for screenprinting is 12 shirts. For Direct-To-Garment, our minimum is only 1 shirt!

Free Shipping
Each standard turnaround (2 week) order comes with free shipping!

On-Campus Delivery
Free drop off to any location within or near our regularly serviced campuses. Applies to: UCSD, USD, SDSU, etc

Price Match
We'll match any US competitor's price on the same item and customization.

Friendly Help
We've been in your shoes. Our team will answer all your questions to the best of their ability!

One Stop Shop
We have shirts, promo items, and more for your orientation or other event.