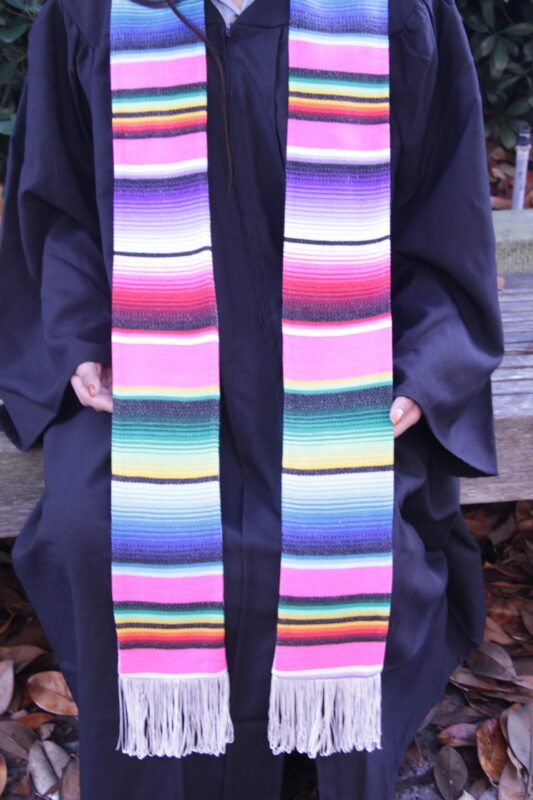 Customize your stole or sash starting as low as $55​
Celebrate your achievement with a Serape stole from CollegeWear, Inc! Your Serape graduation stole is a great way to capture memories on a keepsake that will last a lifetime. Create your personalized Serape stole with us today!
Want to learn more about your customization options for a Mexican serape stole?
PRODUCT FEATURES:
Hand crafted
High quality Mexican serape stole
Available as a full cultural stole
Available as a fabric tip add-on to satin stoles
Fringed tip
Precisely cut to lay flat
Satisfaction guarantee
Group and bulk discounts available
DISCLAIMER: Fabric cuts and pattern design seen in previews may not reflect the final product. Please keep this in mind when customizing your stole.
Product Base: Serape Stole
Material: 100% Cotton
Length: 44in (111.8cm)
Left Panel Width: 4.5in (11.4cm)
Right Panel Width: 4.5in (11.4cm)
Weight: 0.3lbs (4.8oz)
Customizations: Text, Logo, Custom Logo, Greek Text, Greek Crest, Flag Patch
Please Note: Due to the embroidery process, the final product may differ from the preview on the Stole App and website.
Washing Instructions: Hand wash in cold water. Do not machine wash or dry.
Ironing Instructions: Iron on low heat. Do not press iron directly onto stole.
Why choose CollegeWear, Inc. for your Serape Graduation Stole?
Need help designing a stole?
Stuck trying to figure out what to make, or need a bit of inspiration?
Learn More About Our Serape Stoles​
What you need to know about stoles before graduation.